Pyaar se dost log use

Ooty

kehte hain.
Another office trip, one that will go dow
n in history as one of t
he most... interesting.

Happy Birthday Airport
Started off well, because after last time's episode I was so paranoid I actually woke up

on time

and reached the airport. Plans were afoot for R, since this happened to be her birthday; a cake had been sourced somehow at 11 PM the previous night and tran
sported in one piece, and all that remained was to collect enough people to cut it in an airport surpr
ise party, probably the first time in the history of the Santacruz Airport Departure Lounge. This was

slightly

complicated by everyone required to be present rushing straight in
side and
checking in, and the birthday girl herself arriving before everyone else and waiting with me wondering why I'm giving beseeching looks to all co-workers going past.
In-Flight Entertainment
In the end, the message went through, and Happy birthday was sung in the luggage check-in line.
And

at the ticket counter.


And

at the security check.
And

in the Departure lounge.


And

in the aerobridge.
And

on the plane.
And

on takeoff.
And

on the seatbelts-off signal.

Then

the cake was produced, cut, and eaten at 36,000 feet at 800 km
ph. One more
unique

birthday. Happy Birthday was sung

again

. Presents were presented
and duly
appreciated.
Another Happy Birthday encore.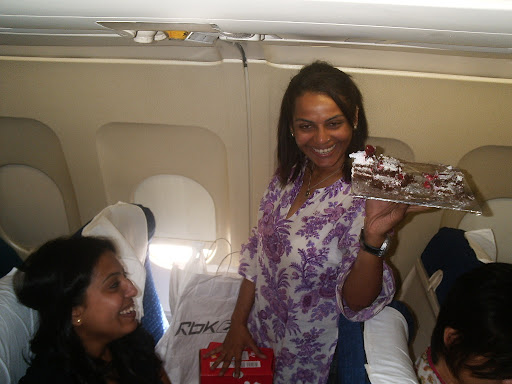 Building Castles in the Air
I love the window seat whenever I fly, 'coz with a little stretch of the imagination, the cloudscape outside turns into a full-blown fantasy epic.
You can see

anything

you want in there... mountain landscapes, sea
s, ships, chariots, armies, horses, orcs and ogres, gods, dragons, eagles, seige engines, castle
s, turrets, towers... all defined in the dazzling luminiscence of divine beings, burning with their own inner fire. And the
best part of this is that

all you see is all there ever was and ever will be

; five minutes later,
it'll
be all gone, and nobody on earth will ever see it again. What you see

now

- the fantasy in your head, the story unfolding in your imagination - it's yours, and yours alone. Only for now.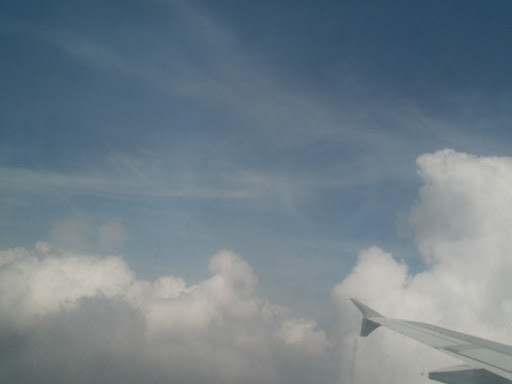 Bus Ride from Hell
After landing (

with another Happy Birthday

) we piled into a bunch of buses which would prove to be the proverbial Bus Ride from Hell. It was just a

bit

too big for the mountain roads, so going was slow. We also stopped to pick up a whole bunch of

beer

. Little did
we know that the beer stop would be the

only

stop the bus would make for a while, because once we hit the mountains, our driver hit the panic button, and the gas.The next three hours were spent in v
arying degrees of bladder-bursting and stomach-rumbling agony, depending on who had drunk the
beer and who was remembering the lack of lunch. The road was

way

too steep for anyone to get off for bio breaks until three hours later, we found a tea estate. The girls raced for the estate office, only to be shooed out by a tea-picker with a righteous outrage who told
us to use
the station 3 km down.

Desperation!

Until R saved the day by finding a jungle path leading off into a bushy shelter. Another first for many people.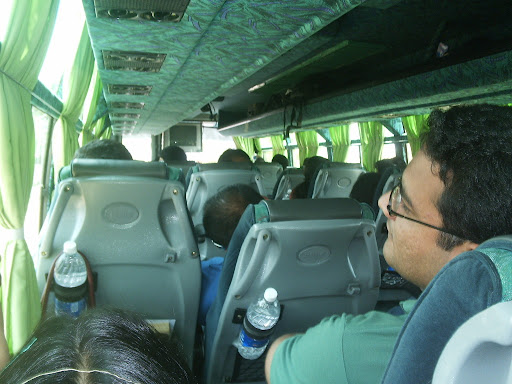 Ooty
We reached the Holiday Inn
Uthagamandalam
by around 4:30 PM, where we

tore

into the last of the remaining lunch like wolves upon the steppe in a starving cold Russian winter. The weather was

perfect

- cold enough for a little nip but warm enough to let you appreciate it. Ideal weather for stuffing your face with warm free food, huh?


Went for a little walk around - sadly, because of the extraordinarily long trav
el, we wouldn't have any time to explore anything much, but we did manage to spend some time around the locality - found a nice shop,

Mohan's

, where we picked up a couple of caps and curios, had some steaming hot South Indian Nilgiri coffee and a decent walk, including rock-climbing what turned out to be the boundary wall of the neighboring government guest house, where the guard shooed us off. We chatted up with him later on the return trip, though, and got to know that the largest and bestest house on top of the hill belonged to a Bombay-based millionaire who made his money at the Mahalaxmi Racecourse. Bombay dreams live on.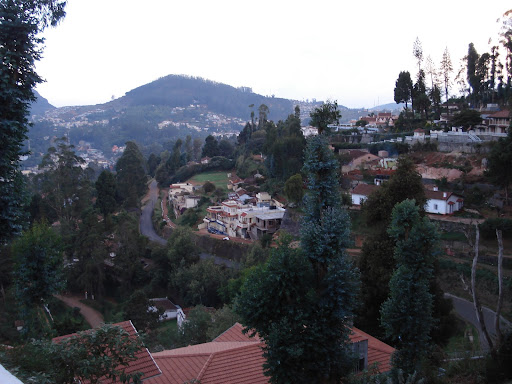 Parties and Pervs
Evening was a party, where one of the highlights was

a fire pit

dug in the lawn and filled with burning wood and old furniture, very

deeply

appreciated in the nights which were quite chilly now; the other was the

ancient speaker system

which rattled the British-era glass in the French windows with every thump; and the last was the

somewhat scummy swimming pool

, exactly
1 foot away from the dance floor

. Perfect recipe for disaster, but surprisingly enough, the company appeared to retain control of itself and absolutely

nobody

fell in, or got pushed in.

Very disappointing.

But there

was

some consolation in the form of eight people who got drunk and puked in it.


We also had our in-house

Perv With A Camera

on the loose, happily clicking away. One of the saddest things about the company parties - which is something I haven't seen anywhere else - is that picture-taking is not only allowed, but condoned and encouraged all the way up the senior management hierarchy, and then the entire episode is turned i
nto a spectacle for public consumption by the rest of the company by broadcasting the pics with helpfully added

comments, graphics and commentary

. Which I guess makes it several orders of magnitude ahead of going to some

seedy third-rate disco

in the suburbs.
I guess nobody's really heard of the concept of 'invasion of privacy' out here...
Retribution and Camera Antics
Next day was an all-day seminar about Symbols and how they apply to us. Slightly woolly, but nothing different

there

. Had a brief session where a group photo had to be taken, which always seems to drive people insane; the poor hapless photographer was handed one camera after another, because everyone wanted a copy of the group photo to be on

their

camera.

Guys!

Digital photos

can be shared!


Ended with a slightly... distracted? television personality, then it's party

again

. Getting really tired of parties now, but still needed to send a messa
ge across; so five of us spent around half an hour

photographing the previous evening's photogr
aphers

, then split for a private chillout session where we could appreciate the calm of the night and generally yak in peace. A's Ericsson speakers helped no end.
Good Mooooorning Holiday Inn!
With the distant sounds of the party still in progress faintly audible in the distance at 3 AM, I was just falling off to sleep when I though of setting a wake-up call for the morning the next day; the bus was at eight - but when I called reception, I was told that a wakeup alarm was

already

set. For

5 AM.
"Well,"

I thought, while drifting off, thinking of the 130+ hangovers that were going to be woken up in two hours,

"I will definitely not want to be on the reception desk during
the early morning shift..."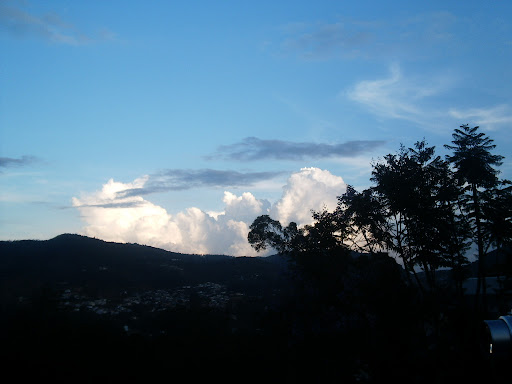 Bus Ride from Hell Part 2
The return journey from Ooty was almost as interesting as the original trip; only longer.

Much

longer. Coz we weren't going back to nearby Coimbatore, but heading

all the way across the state

to Bangalore,

10 hours away.

The kind of Machiavellian machinations and human logistics that went into ensuring that we had only pleasant non-cribby,

non-singing

, and non-irritable company on the bus had to be seen to be believed. But it worked, and we had a fairly decent trip back to B'lore, passing thru a sanctuary where for some reason ALL the animals spotted except for one anemic deer and a goat, were on the

opposite side

of the bus. We also asked th
e driver to do a stop in Mysore and he drew up in front of some 5-star hotel, where we then had to walk in like guests and admire the silk emporium and the restaurant before sneaking into the loo. Then the rest of the bus arrived and lined up like a Sulabh Sauchalay, so we fled. Rest of the journey passed in sleeping and imitating senior management member mannerisms and quirks.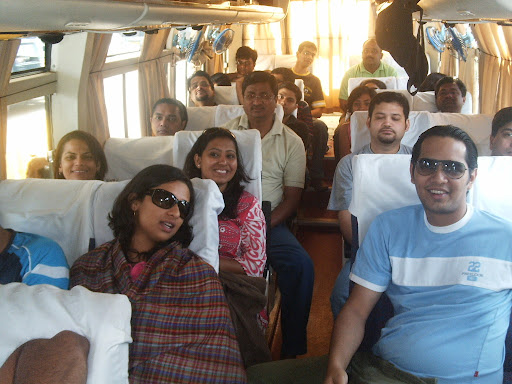 Bangalore airport - a scene like the aftermath of a war, with drooping, disheveled, dirty and dog-tired workers.

Except me

. Because while everyone

else

was heading

back to Bombay,

and client calls, and plans, and work,

I

was heading...

home. And a fairly extended holiday.
But then, that's another story.
---
Official Company Trip to Uthagamandalam
(I just love that name!)
- Trials, Tribulations, Terrors and now, Pictures.